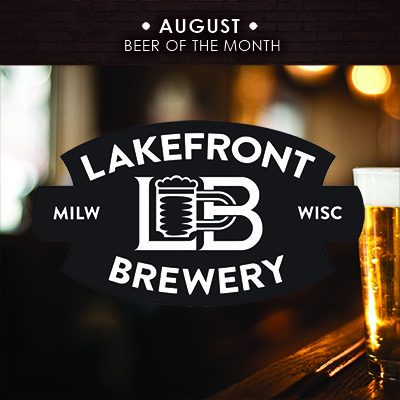 August's Beer of the Month is dedicated to ALL Lakefront Brewery beers! Enjoy $5 Drafts of Lakefront Brewery beers all month long.

Lakefront Brewery is a leader in brewing the best beers in Milwaukee, Wisconsin. Started in 1987, Lakefront Brewery has been brewing for more than 29 years. As on of our favorite breweries, we're so please to have them in the spotlight during the last month of summer! With a variety of Lakefront tappers this month, we're sure to have something all beer drinkers can enjoy!

AND Miller Time Pub & Grill will be hosting a Lakefront Brewery beer tasting will be on Thursday, August 24th from 5-7pm.

Guests who purchase a Lakefront beer during the tasting time will also get the chance to spin a prize wheel for Lakefront logo merchandise! Be sure to grab your pals and enjoy a pint (or three) of local Lakefront beer!